In 2012 when Mark L. Lengnick-Hall and Herman Aguinis counted the number of certified HR professionals, they arrived at a whopping 150,000 individuals in 70+ countries. By then the HR certification industry had already bloomed into a million-dollar industry. This number has more than tripled in the years that have followed.
A 2018 study by payscale says:
Today, 34.2% of HR professionals have at least one HR certification.
HR certifications are mainstream and professionals are scampering to get a couple or at least one in their credit. Why this rush? Are their reasons justified or they are simply following the herd?
TMI conducted a detailed statistical study on the impact of HR certifications on HR professionals' career growth and benchmarked the results on four prominent parameters. Data for this study were collected from payscale.com.
Parameter 1 - Popularity:
In its 2018 report, Payscale said 55.7% of CHROs are certified in comparison to 13.2% of certified Human Resource Administrators. A descending salary w.r.t profile trend reinforces the thought that senior HR professionals are more likely to own a certification.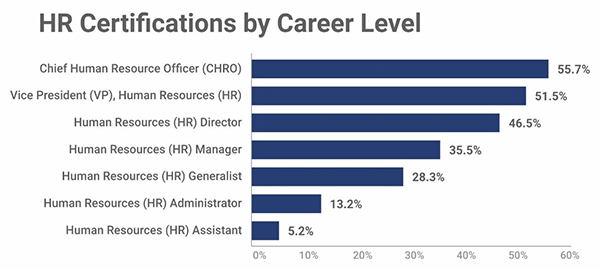 Further analysis showed certifications to help HR generalists' profiles on a greater scale than the specialist profiles.
Parameter 2 - Pay Boost
Payscale 2019 says HR certifications do boost pays and that too significantly up until the middle levels. Salaries for certified HR professionals have spiked substantially over the last 10 years. According to payscale:
The average hike for certified HR professionals in 2008 was 17%, this number grew to 31.6 percent by 2018.
HR certifications have shown to greatly reinforce negotiation footing to avail higher salaries. Job applicants with an HR certification on average receive a 31.6% boost in their salaries.
Parameter 3 - Promotions:
Here we saw a bell curve with odds escalating to the maximum at the lowest and the highest levels while remaining moderate at the middle-level. HR assistants and Directors have maximum odds of being promoted post-certification. The average time duration for these promotions was also significantly shorter than one for regular promotions. Certified candidates were also offered better job opportunities.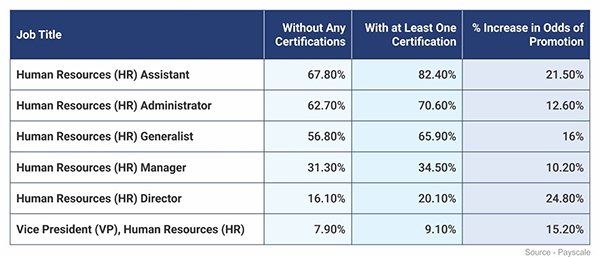 82% of HR professionals at the assistant level say they were promoted after they received their certification.
Certified HR directors have 25% more chance of getting prompted than the non-certified HR directors. Deborah Gutman, human resources manager at Sierra Nevada Brewing Co says "Certifications definitely hold some weight. I would select a person with a certification vs. somebody who doesn't have it."
Parameter 4 - Industry-wise Value
Not all industries value HR certifications equally. Certified candidates received maximum pay boost in healthcare, retail and customer service, and accommodation and food services industries.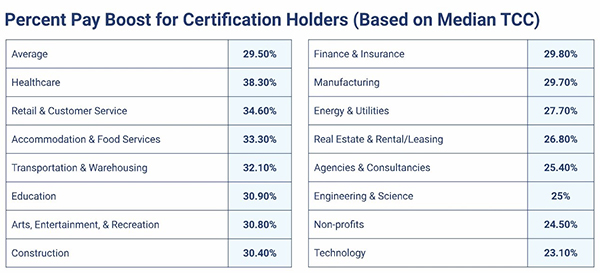 Sum up:
The business environment is increasingly becoming complex. In this state of business affairs, getting advanced skills and knowledge helps both the employee and the organization. The HR profession has no standard growth track or definite academic discipline. Certification can offer the needed reliability. They also show the employees' commitment to the field and help HR professionals at all levels.
According to JD Convey, Head of Talent Acquisition at BambooHR. "Certifications are really helpful for people breaking into HR…They can help prove that you have a good knowledge base and can help show businesses that you know what you're doing. They are a great way to supplement your education and make sure you know your stuff."
For senior levels, HR certifications help in "proving to the business that there are clear standards of what to expect from human resources in terms of knowledge, expertise, behavior, and professionalism, and that they are consistent." Caroline McGuire, People and Performance Manager, BMT WBM; AHRI State President, Queensland
Michael Nelson, Chief Human Resources Officer, Queensland Department of Health says "good HR is HR that understands business." To do that "people need to be suitably qualified and capable of providing support and leadership to achieve the business objectives…It's about increasing the status and value of HR. Through certification, we will gain a similar standing to our finance colleagues, so that not everyone thinks that they can do human resources. It's a flawed assumption."
Before you opt for HR certifications:
Stressing on the perplexity of the HR professionals as to how, when and why to get an HR certification, Prof Peter Cappelli, said: "It certainly complicates things for HR people." But, here's the roadmap to make your choice simple:
Check:
Why do you want to get certified?
What do you need to do to get certified?
What are the criteria for re-certification?
Is your employer willing to sponsor you?
Visualize your career path and evaluate which certification might work best for you. Once you have invested substantial time, effort and money to earn a certification, remain updated and get recertified when needed.