When the world went into lockdown last spring, Mukta Arya, GTML™, and the Head of Human Resources – Asia Pacific at Société Générale, started 'bouncing back' series for employees along with instituting several inclusive and support practices. Arya shares how talent leaders weathered the change and found a way to thrive as they extemporized. We round up her thoughts and advice in a full interview.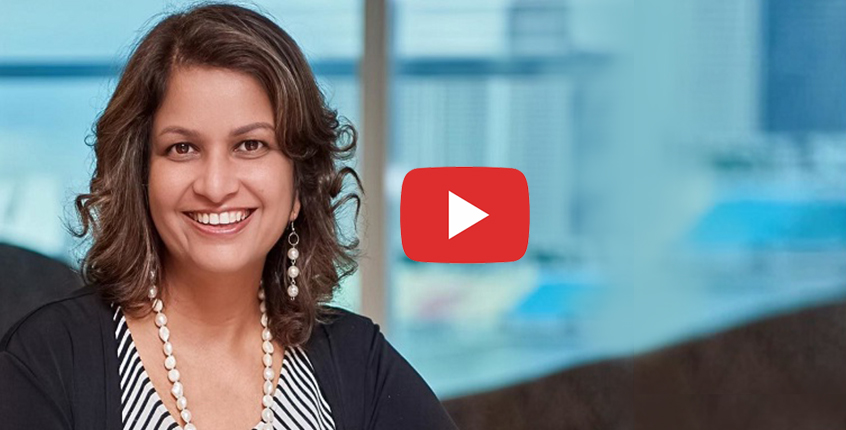 Welcome to the Talent Management Institute's '2020 in Review' series. Today, we have the pleasure of speaking with Mukta Arya, Head of Human Resources – Asia Pacific for Société Générale. Mukta, thank you so much for speaking with us today.
Mukta: Thanks! I'm happy to be here.
As an executive, as a senior leader, what have been your biggest challenges in working from home and working remotely this year?
Mukta: This year, as for everyone, has been different. In the beginning, we did have some teething troubles when people had to work from home throughout. We did launch our work from home policy a few years ago, but it was limited to fewer departments and fewer people. Fortunately, for us, our IT infrastructure was quite strong. So, it was quite easy for us to, after the initial teething troubles, move our operations to work from home, and it worked quite well. People have been quite resilient and have been able to perform even during this time. Yes, there were issues, but we have overcome that, and now it has become a way of life.
Throughout the year, certainly, lots have happened, and lots have changed, but one of the things that sticks out is the importance of the human element to business. It's not just about employees, and it's not just about health benefits, it's physical, and mental, and emotional well-being. So, how do you think the business view of human resources has changed, and what is your organization doing to really take care of its people?
Mukta: During this time, the human resources has become even more important. As you mentioned, it's not only physical but it's also mental well-being, which are the issues that came to the fore. And for us, it was quite important to remain connected with employees and we did see our managers step up – an HR, for example, spending more time with employees, even though virtually, through virtual catchups, meetings, etc. We spent time discussing with the senior management about the new things that we need to work on to keep the morale high. So, we have e-town halls, we have communication not only from senior management but also mid-managers. We encourage them. We had a number of sessions on mental well-being, on resilience – we call it the 'bouncing back' series for employees – and tips and tools so that people who need that support or all who are grappling with homeschooling, grappling with husband-wife-children in the same home working on their laptops and tablets at the same time. How do they actually manage it? We did a number of things from our side to help them. We also have employee assistance program with the direct hotline to counsellors, and we think that it's important to provide this support. People may or may not use it, but the satisfaction that there is support, that there is somebody to talk to when they need help is quite important. So, for me, human resources has become all the more important. Human resources are like a bank. If they are not happy, if they are not satisfied, or if they are not feeling well mentally and physically, then it's not going to help our organization.
Another thing that we've seen this year is several events and lots of activism that has led companies to rethink their strategy related to diversity, access, equity, and inclusion. A lot of it has been local, like here where I am in the US, but a lot of it has been international as well. Protests in so many countries around the world. What have been the biggest impacts of these global racial activism protests on businesses?
Mukta: For us, what it has done in APAC, and I'm talking about the 12 countries that we are in, is build awareness about diversity and inclusion issues. So, people are more aware of it, people are talking about it, and people would like organizations to take more initiatives, which are related to equality, whether it's gender, whether it's cultural, LGBT+, or differently abled. So, for me what I see in my organization is increased awareness in employees about these topics, and frankly talking about them, and also raising them in different forums about what we are doing. We do have a diversity and inclusion council in APAC, and we have four networks. And this year we undertook a number of initiatives, which were increased compared to last years. Also, we do call surveys, and one of the sections was on diversity and inclusion. A number of employees now are aware of the topic, which is much more than what was earlier. Now, they see what actions are being taken. So, I would say that it has created more awareness.
And has there been anything different or new in these programs in the activities that you do, specifically because there's more of a remote workforce?
Mukta: I don't think that has changed, but it has given more time to people to think about these topics. So, when we have our town halls and other forums related to HR topics, we do see a number of people participating in it. We have a lot of suggestions from people about what we are doing. When I have, for example, catchups with people, or my HR business partners have catch-ups with employees, it does come up. So, what I feel is there is no difference when they were here, but maybe they had more time to think about it when they are in virtual spaces. There is much more going on in the minds of people, and they are asking suggestions, which I think is really good as a lot of people are reading now when working from home or remotely.
What do you think have been the biggest challenges and changes this year in terms of talent management practices?
Mukta: There have been quite a few challenges. For the process, per se, not so much because we were anyway in 12 countries, and with our headquarters in Paris, we were anyway virtual in a number of things. The processes and all remained the same. The mode of delivery for some of our flagship programs, which we used to do in Hong Kong for Asia-Pacific region, or where people used to go to Paris, they have all gone virtual and completely online. And, I must say that it was a little bit of stretch in the beginning because we were used to doing things in a different way, but we adapted. Even we did our design thinking workshops for the big programs virtually, and it worked quite well. The various modes that are available with zoom, breakout rooms, collaborative platforms like Murals helped us to use it. And for the employees as well it was quite good because they discovered new tools, which we never thought we can use. So, we actually held design programs virtually and implemented some of our really big programs this year for Managing Directors, Directors, our women's program called spectrum and for junior people called accelerated development program – all of these we did virtually, and the feedback has been really good. Of course, going forward we would want to keep the face-to-face element for some part, but now we know that we have other options to choose from, and we can be as effective. So, for me, it has changed drastically the way we look at our programs, the way we do our discussions, but I think it is a positive one.
Do you still feel that HR is in crisis response mode, or has it stabilized?
Mukta: In Asia, I would say that we have stabilized. There are, of course, still waves which are going on in different countries, and that we have to do a reactive kind of thing, but we are more prepared, I would say. In the beginning, it was really crisis, now it has settled down. People are used to splitting teams, working from home, doing virtual meetings, and as I said steering all kinds of programs virtually. So, I would say that it has settled down, and now we are looking forward to a new year with a strategy, which is also dependent on, you know, if things go like this we do like this, and if things go like that we do like that. So, we are scenario planning. There's still bits and pieces of crisis sometimes, but overall, we are very prepared to do things.
What has been your biggest learning of 2020?
Mukta: There have been multiple learnings. One is definitely resilience. What we can do as a human being, as an individual, and as a company to make sure that we are resilient in different parts because, if you are not resilient then you cannot overcome any adversity – 2020 we had pandemic, but there could be other things like we had the financial crisis, 9/11, etc. I've seen quite a number of them. So, resilience is very important.
The second is that if we dwell on the negatives then it's a downward spiral. So, we also look at the positive things – what we gained out of it – spent more time with family, or if we were away from them, we still managed to have connectivity through various channels to see them, we could spend more time thinking about our careers. A lot of employees did tell me that this time actually helped them to think about their priorities in life – whether it's family, it's work, or it's a balance of both, and it's also that there are many beautiful things in life which we actually miss out in the hustle and bustle of our busy lives. So, it's time to step back and think about it. So, yes, I had a lot of learnings, and I do see it as something which will help us to grow further in the coming years.
Resilience and finding the positives go hand in hand. Finding positives is a big part of resilience. Well, Mukta, thank you so much for taking the time to spend with us today. We certainly appreciate it.
Mukta: Thank you! It was my pleasure.