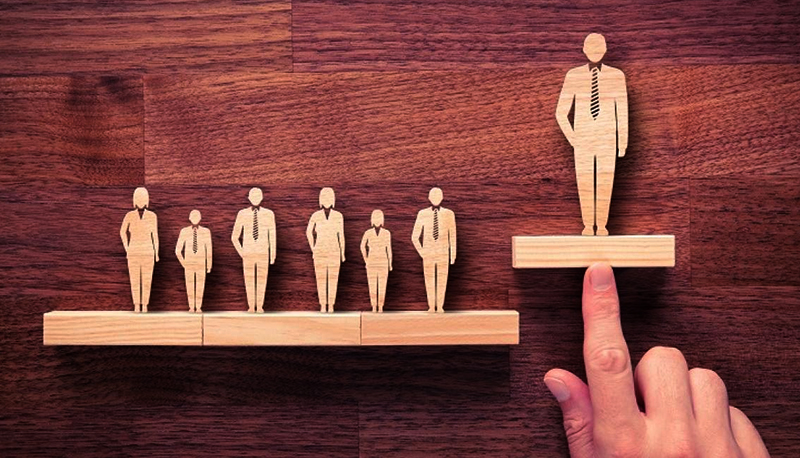 The HR department plays different roles, one of them being talent management. Employees are a key part of any business. They use their time and energy to push the organization forward. Thus, your business can reap many benefits with an optimized talent management strategy.
The strategy can help you hire and retain top talent, although it has been challenging for most organizations. It also creates a streamlined and effective process, thus improving employee engagement while reducing employee turnover.
According to a recent study, 85 million job openings will remain unfilled by 2030 due to a lack of unskilled employees. Talent management assists organizations in preparing a qualified and future-ready workforce. It not only improves team productivity and employee satisfaction, but it also benefits in talent retention. As a result, businesses should strive to successfully manage their personnel in order to grow their skills and competencies over time.
This comprehensive guide highlights the different steps in the talent management process and its benefits.
Talent Management Definition and Benefits
Talent management comprises hiring and retaining high-quality employees, training them, and motivating them. It's a crucial HR department role because a motivated workforce is productive, which translates to happier customers and more profits.
The best talent management enables organizations to match candidates with the right positions, which helps them to achieve their long-term goals. Keeping your employees motivated is a crucial talent management component. It includes ensuring they get challenged and also:
Promoting your employees
Offering them better pay
Training and encouraging creativity and innovation amongst your employees.
What are the benefits of the talent management process?
Businesses invest in talent management systems to help them manage recruitment, training, performance review, promotions, feedback, etc. Staff feels more engaged and satisfied with their role and the company when they're heard, trained, and challenged.
Other benefits of a streamlined talent management process are: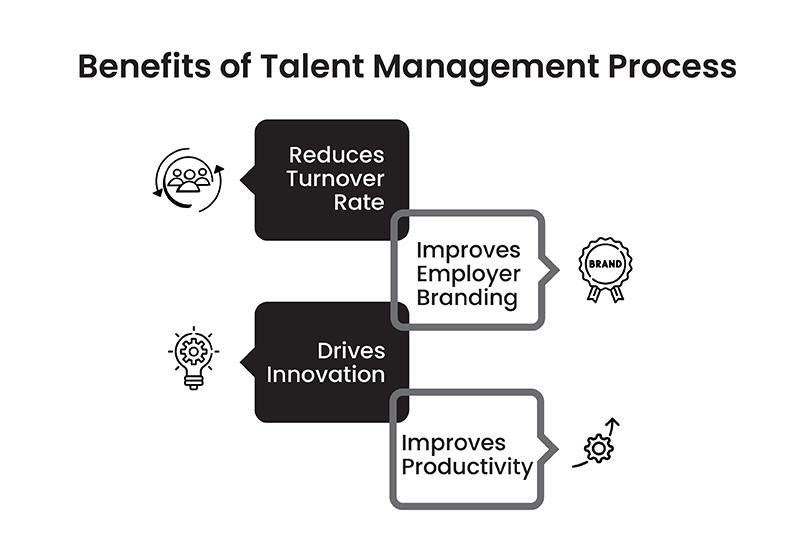 01. Reduces Turnover Rate

The talent management cycle entails hiring, selection, and training. It also involves learning and development, succession planning, engagement, and culture building.
Optimizing this process prevents your workers from leaving your company prematurely. Thus, all organizations should strive to hire suitable candidates and provide them with the appropriate learning and development opportunities.

02. Improves Employer Branding

The effective talent management process includes hiring the right people for the available vacancies in your company. Such a strategy positively impacts your recruitment efforts and the organization's brand.
Twenty-first-century job seekers want to work for companies with incredible learning and development programs. As a result, such organizations attract and retain top talents, which gives them a competitive advantage.

03. Drives Innovation

There have been many HR-centered technologies hitting the scene recently. Thanks to such technologies, talented employees can now harness their capabilities to use advanced tools to solve problems and generate new ideas.

04. Improves Productivity

Talent management supports strength-based coaching to help your team members develop their skills. Helping your employees to reach their full potential increases efficiency and amplifies their performance.
Steps to Achieving an Effective Talent Management Process
01. Specify the Kinds of Hires You want

The first step in developing a great talent management system is determining the candidates your business needs. Your strategy should specify the requirements these new hires should have. It should also include an option for training the existing employees instead of bringing in new ones.

Here are steps to developing your organization's talent management strategy.

Define your business goals and priorities
Identify barriers and challenges preventing you from driving your organization's objectives and achieving its goals
Generate solutions to the identified hurdles, i.e., skills gap, incentives, and much more
Align HR priorities with business goals
Develop talent to meet your business needs
Recruit top talent when developing staff internally
Measure and assess your talent management process

02. Attract Top Talents

Organizations attract the right people by creating targeted advertisements and displaying them on reputable job sites. The HR department then schedules interviews that comprise the following:

Regular questions
Personality assessments and tests

The goal is to assess how the candidate performs in real-life situations. Lastly, hire candidates that meet your company's requirements.

03. Onboard New Hires

It's best to prepare to welcome your hiring before interviewing job applicants. Have their workstations and tools ready, schedule training sessions, and assign mentors to help them settle in whenever possible.

04. Plan Learning and Development

Most organizations prefer developing their current employees' skills rather than hiring and training new talents. After all, even new hires must undergo training to enable them to perform their new role well and understand the organization's culture.

The company can offer learning opportunities through courses, a learning management system, conferences, etc. The aim is to create a learning environment.

05. Review Your Employees' Performance Regularly

Companies conduct performance reviews regularly to identify and reward top performers. They also do this to support those struggling to achieve their targets.

Performance reviews help you unmask workers that can manage additional responsibilities and prepare them for a promotion. Indeed, you don't need to hire new people when the current ones can handle more tasks.

06. Retain the Best Talents

It's best to retain your current employees than recruit new ones. Replacing an employee who leaves your company can cost thousands of dollars because of the recruitment, onboarding, and training expenses.

Therefore, identify why your employees are leaving their current roles and work on retaining them by offering incentives like:

Improved health benefits
An array of perks and benefits

07. Plan for Successions

The best companies nurture their employees for succession. The management wants their current employees to take up the roles of those who exit the company through retirement. Through continuous learning opportunities, your employees can take up higher positions, thus eliminating the need to hire new talents.

Employees may leave the company through other ways other than retirement. They can exit the organization through voluntary resignation, end of a contract, or termination due to misconduct. They can also exit through other reasons such as death, or absconding.

HR can conduct an exit interview with every employee who decides to leave to understand their reasons for exiting. Their feedback can help improve the working environment, thus preventing the same issue from recurring in the future.
In Summary
The talent management process is crucial but doesn't happen naturally. Each organization needs a talent management strategy tailored to its goals and priorities. You can define and refine it until you achieve a perfect strategy for your business.
This article highlights 7 steps to achieving an effective talent management process. Your business needs to set goals, identify the gaps, develop internally, or recruit and retain top talents. Brands that have implemented these talent management strategies have gained a competitive advantage over peers in their industry.